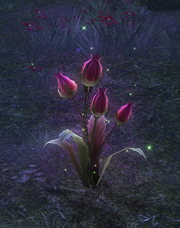 Foraging is a skill that is used to collect plants and wood. These items are used in crafting professions such as Weaponsmithing, Apothecary, Armorsmith, and Artificer.
To find items that you can forage, you will need to turn on your foraging tracking skill. You can have multiple tracking skills up at once, so if you've also taken up Mining you can track metal and forage materials at the same time.
You do not need any special tools to harvest. Harvested items stack up to 99.
Development Skill
Edit
| Title | Skill | Cost |
| --- | --- | --- |
| Novice | 0 | 10 |
| Skilled | 70 | 50 |
| Expert | 145 | 2 50 |
| Master | 220 | 1 25 0 |
| Grandmaster | 295 | 11 80 0 |
Bulk Materials 11 Recipes
Edit
Dimension Items 5 Recipes
Edit
Materials 20 Recipes
Edit
Zones & Materials
Edit